Watch Collection Guide: How to Start a Watch Collection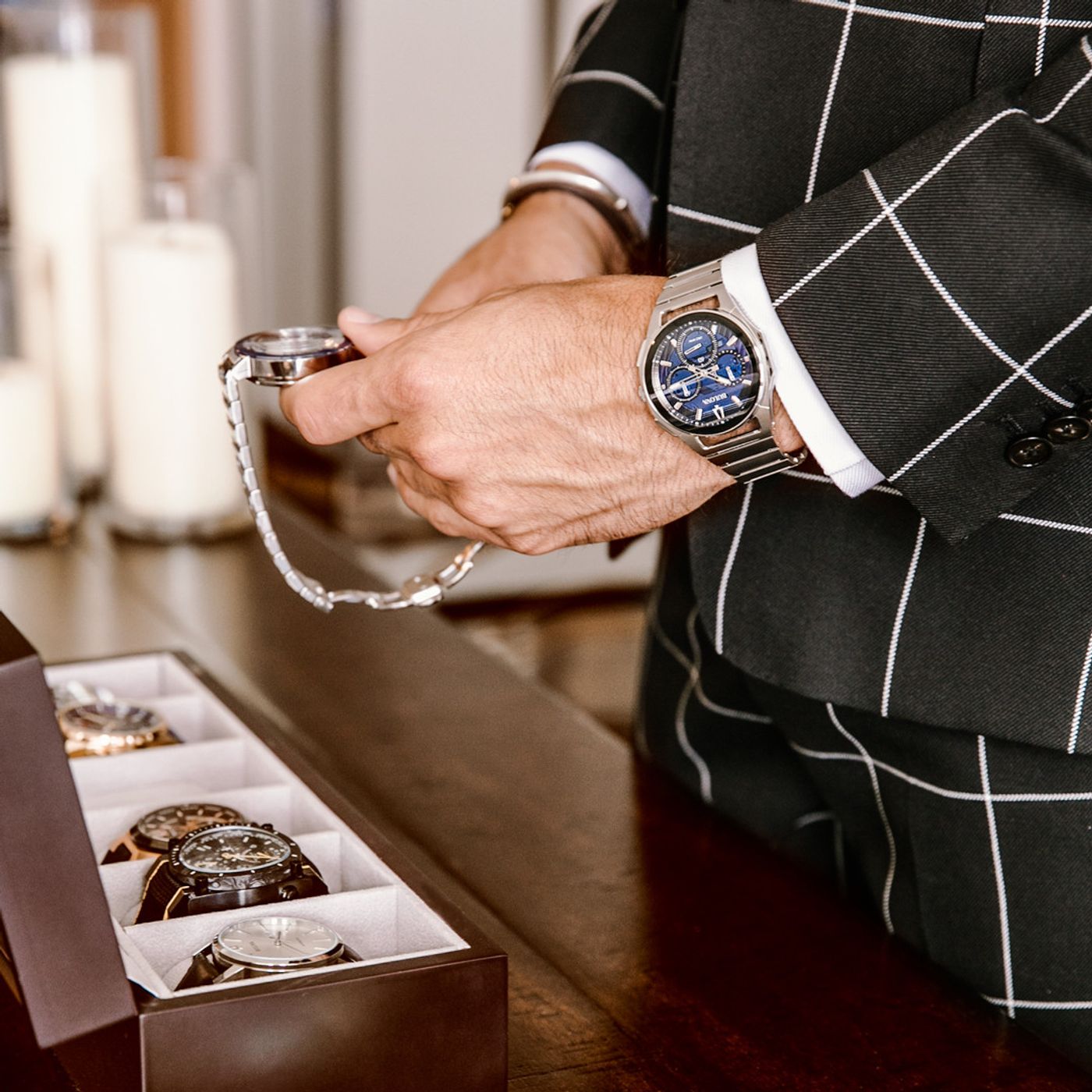 For today's discerning gentlemen looking to stand out from the crowd, there are not many options for ways to accessorize or bring personality to an outfit or look. One exception to that rule is in the watch chosen for that day, time or event. Many men will have only a single watch that is their go-to staple, but others are starting to realize that having a collection of luxury timepieces can allow them to make a subtle and powerful statement. But knowing where to start when starting a luxury watch collection can be a daunting task. Here at Bulova we have put together a brief guide on things to keep in mind as you begin this journey, as well as a few pieces you might want to consider as your starting point into this realm of men's accessories.
1. Do the research.
It might seem obvious, but before committing to a single brand or style, the first thing every man interested in a new watch collection should do is their homework. Take the time to really understand each of the luxury men's watch brands, what makes them different, what they value and how that translates into the timepieces they produce.
From there, take the time to understand the different style elements that a watch can bring to the table. Some occasions will call for a piece in gold, with diamond accents, while others may be more suited to a piece designed for underwater adventures. Understand how different watches make different statements, and project different images. Then use that knowledge to help determine what types of watches will best suit your lifestyle in any situation you might find yourself in.
2. Do you prefer modern or vintage?
There are a wide range of luxury timepieces from every era available — at nearly every price point — so determining if you want to go with a vintage watch collection or a new one is an important decision. Of course, many can — and do — have a mix of both vintage and new in their collections, and in those cases, perhaps one way to tie the collection together is by sticking with a single brand. Having a mix of classic and timeless pieces with more modern styles can allow you to have a piece that perfectly exemplifies the statement you wish to make in any situation.
3. Buy pieces you love.
You'll want your timepiece collection to speak to you — your tastes, your style, your preferences — so choose pieces that appeal to you. Stick with luxury watches you will want to wear, as they do no one, least of all you, any favors locked in a drawer and never looked at. A watch collection is a working collection — pieces made to be worn and used, rather than just admired from afar. Don't fall into the trap of purchasing pieces because someone else believes you should.
Our Picks
The Lunar Pilot Chronograph
If you are looking to start your luxury watch collection with a piece that has a story to tell, the Lunar Pilot Chronograph, part of the Archive Series, is a good choice. Modeled after the pieces Bulova made for the astronauts during the Apollo 15 mission in August 1971, this classic timepiece was updated to use the latest high-performance quartz movement. It has a silver-tone finish and a black dial with sapphire glass. The Lunar Pilot Chronograph is sure to be a conversation starter anywhere you wear it.
The Aerojet
Part of the Classic collection, this timepiece features a rose-gold stainless steel case with a croco-embossed brown leather strap. It features Bulova's automatic heart-beat self-winding technology, with a 40-hour power reserve, and is water resistant up to 30 meters. This simple design is perfect for occasions when you want something a bit more elegant without going overboard.
The Marine Star
The signature piece in the Marine Star collection, this watch is water resistant up to 200 meters, making it the perfect place to start a timepiece collection for active gentlemen. It has a black dial, with luminous hands and markers, and has a stainless-steel bracelet with a fold-over buckle closure, as well as a safety bar and extender.
The Oceanographer
Also part of the Archive Series, this piece celebrates Bulova's 1970's classic diver's watch. With a black and red bezel and a blue anti-reflective coating on the face, this piece is striking in its looks. Like the Marine Star, it is also water resistant up to 200 meters, but brings a vintage feel to the collection.
Read More
Starting a new luxury watch collection is a very personal endeavor. These four pieces each bring their own flair, but don't be afraid to spend time looking through various styles to find the ones that fit you best. Start with a watch that will best fit your daily lifestyle, the one you will get the most use out of, and then begin to build out your collection from there. Above all, find pieces you truly enjoy wearing, and you will find you always have the perfect watch for every occasion.
Read Less