Keeping Time on Your Automatic Watch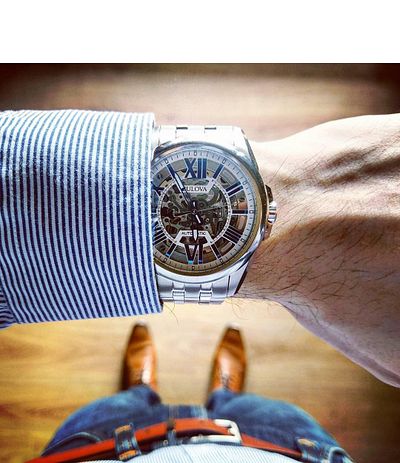 The invention of automatic watches, also known as self-winding watches, revolutionized the space, allowing the motion of the wearer to provide energy to keep the watch running, rather than manual turns.
While every watch maker takes a slightly different approach, in general, when first getting a new watch, we recommend spinning the crown anywhere from 20 to 40 times, ensuring the internal mainspring is fully wound and ready for use. With that, the daily wear of the watch will keep the springs wound to the correct tension, and ensure the watch keeps time even when not worn regularly.
Bulova has several self-winding watches for different styles and tastes, and all of them benefit from this occasional winding, despite being automatic self-winding pieces.
Our Picks
The Sutton
For men's self-winding watches, the Sutton, powered by our 21- jewel self-winding mechanical movement is a perfect example of form and function coming together. It features a full exhibition dial and case-back revealing the intricate workings of the watch movement. With a 40-hour power reserve, this watch can easily continue functioning if it is worn daily, but winding it every few days while not in use will ensure it is ready to shine whenever it is needed.
Marine Star
For those looking for a more sporty feel, the Marine Star is an eye-catching automatic watch with a rose gold stainless steel case and a blue outer ring. The face features a blue dial with flat mineral crystal, and it is finished with a blue silicone strap with a contrasting red underside. Like the American Clipper, depending on how often the watch is worn, and how active a person is while wearing it, winding it every 2-4 days to ensure the power reserves stay at their maximum levels is a good idea.
American Clipper
The American Clipper, part of the Men's Classic Automatic collection. This piece features a stainless steel case and black leather strap, and has a 40-hour power reserve. Depending on how much use this watch sees, it is a good idea to wind it every 2-4 days to ensure it is always ready to go.
Automatic self-winding watches can and do keep themselves running on the power of movement alone, as long as they are being actively worn and moved around. For those who have a wide selection of watches to interchange between, manually winding these pieces will ensure time never stops.