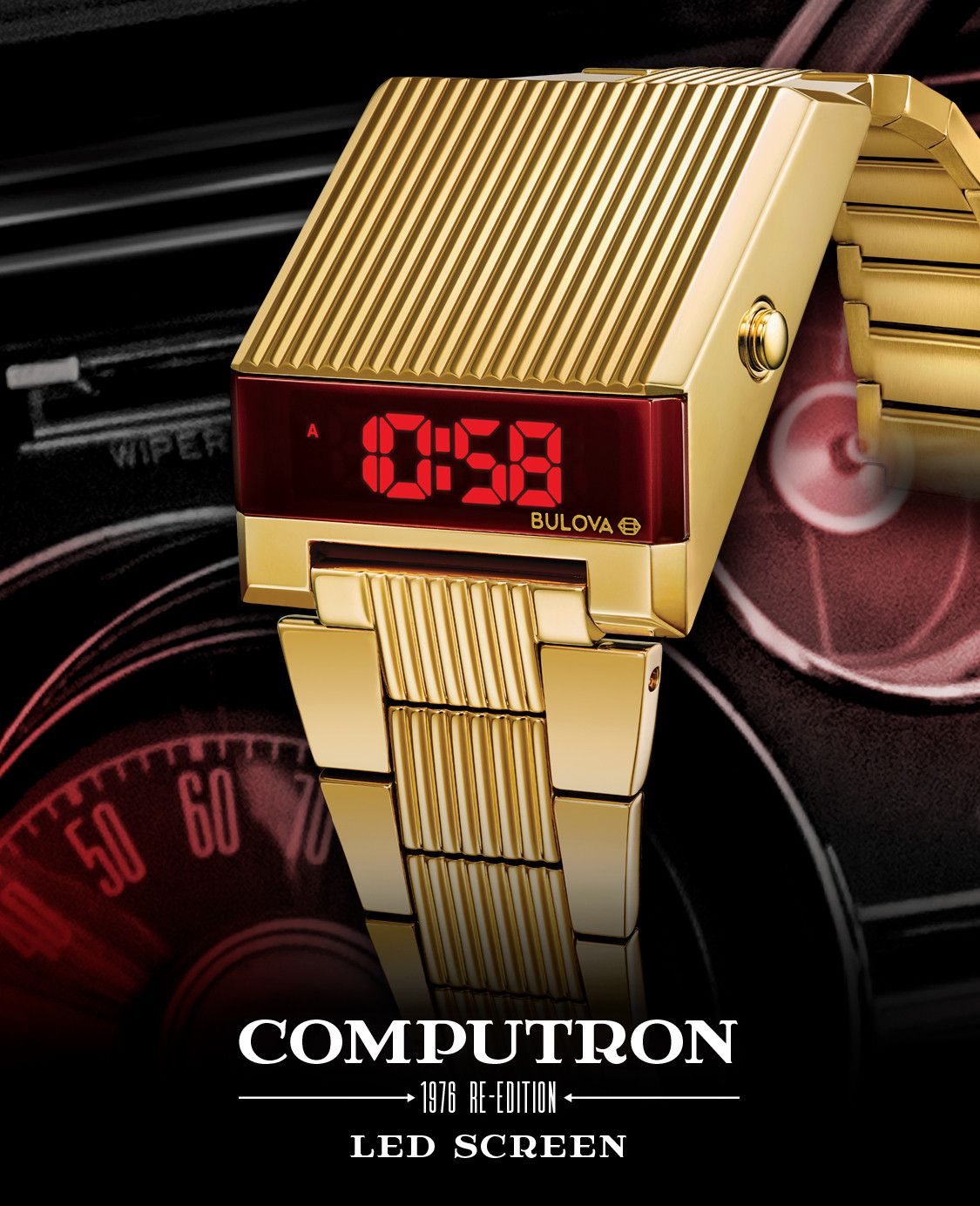 Bulova Computron
As electronic and quartz watches began growing in popularity throughout the late 1970s and 1980s, Bulova continued to forge ahead with innovations.

Bulova catered to the era's growing demand for digital timekeepers by adding a line of Accuquartz watches with digital LCD time displays, and eventually, the all-digital Computron LED, with its very unconventional and (at the time) somewhat futuristic trapezoidal case with LED display on the side.

This style is often called a "drivers' watch" because its layout enables a driver to check the time without moving his wrist from the steering wheel; in the case of the Computron, the angled time display — the wearer would press the command button once for the time, and again for the date — also addressed the problem of glare from direct sunlight impairing the visibility on an LED watch.
Reintroducing the Computron
Infusing some of the brand's most iconic and nostalgic timepieces with modern design elements, Bulova's Archive Series continues to expand with the new digital LED Computron. What was considered at the time an unconventional, futuristic looking trapezoidal case design, the new style honors the versions of the past and displays the time via LED on the front, at an angle.
Watch the Video
Sleek Stainless-Steel
For a limited time, available in stainless steel with blue LED digital display.
Retro Gold-Tone
Bulova welcomes its newest addition to the Archive Series with the reimagined Computron. The Sleek design features a red LED display and a distinctly retro design that is as relevant today as it was in the 1970s.
Contemporary Black
The collection is also updated with the contemporary black IP version on a black silicone strap.