Bulova goes all out to celebrate our partnership with the legendary Nile Rodgers
We are proud to partner with a true legend of our time. Record producer, songwriter, musician, composer, arranger and guitarist, Nile Rodgers has done it all. The most famous songs you hear or music you know was created by the artist who has touched generations.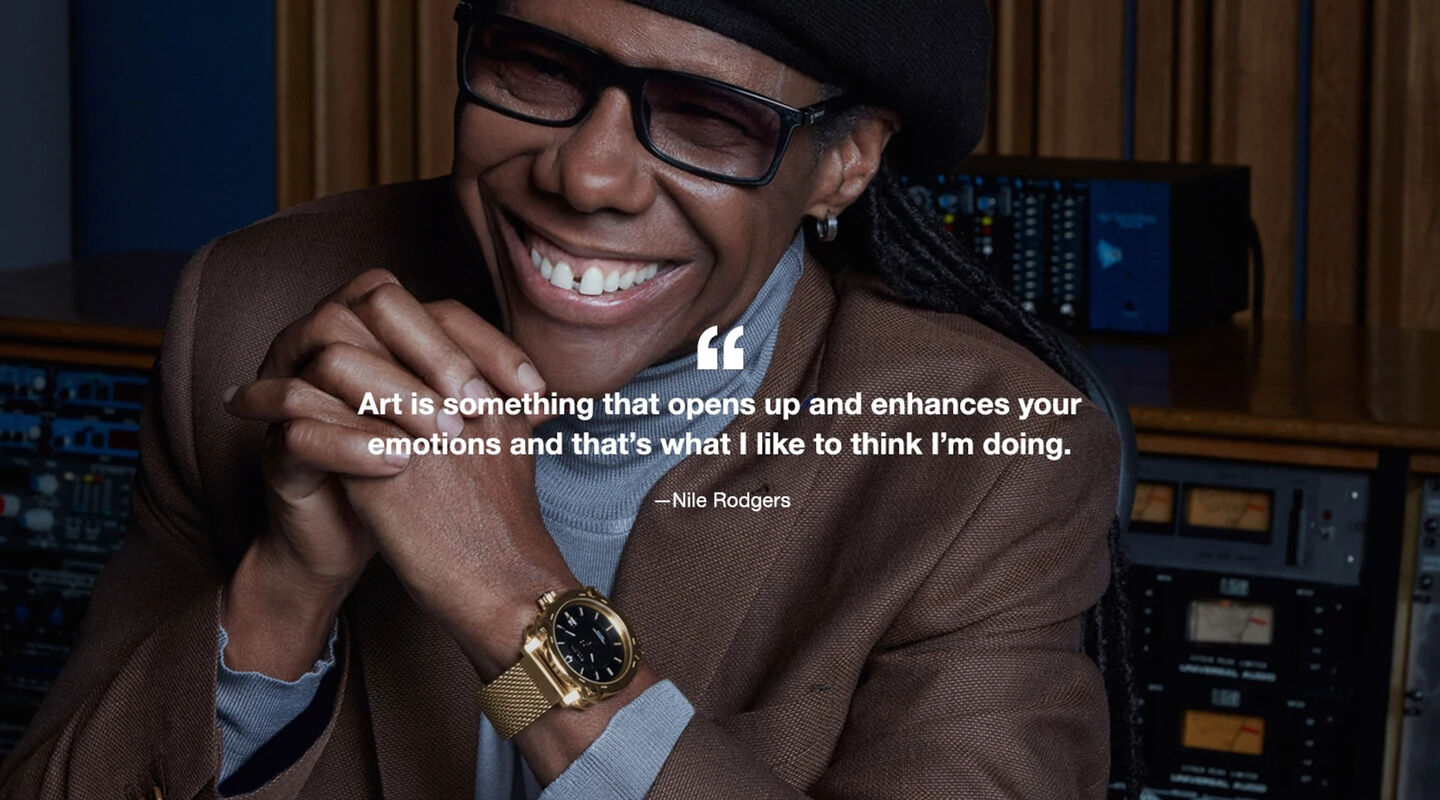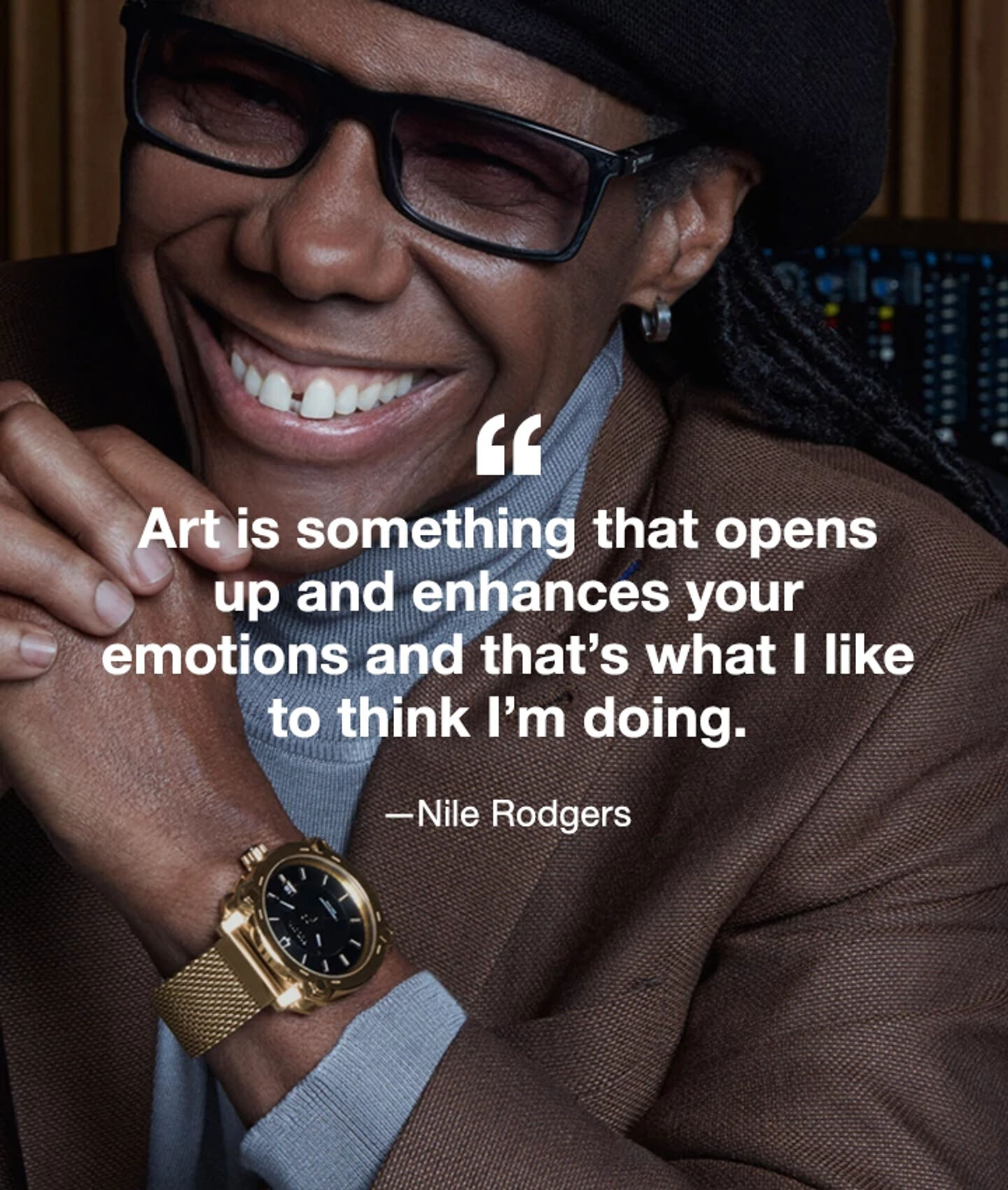 In true Nile style, Bulova introduces two Limited Edition We Are Family Timepieces
With only 70 individually numbered pieces made of each watch, the exclusive timepieces support the We Are Family Foundation and honor the iconic musician's birthday with custom case backs marked with "HAPPY 70TH NILE!"
Featuring design elements inspired by Nile's iconic guitar, known as "The Hitmaker", the dial is designed in a black record cut pattern with a white printed signature of Nile Rodgers and a wood grain decoration resembling the neck of a guitar. The black nylon strap with rivet detail also features the We Are Family Foundation logo.
As a nod to the 'Space Race' history with which Nile grew up and is fascinated with, the new Limited Edition 'We Are Family' Lunar Pilot Chronograph is a commemorative reissue of the Archive Series Bulova watch worn on August 2, 1971 during the Apollo 15 mission. It features our proprietary high-performance quartz movement with a frequency of 262 kHz for superior accuracy.
A portion of the proceeds from the sales of both timepieces will benefit Nile Rodgers' "We Are Family Foundation" which amplifies global youth who are positively changing the world with their ideas, innovations, and social good solutions.
For more information visit www.wearefamilyfoundation.org
Nile Rodgers is a multiple GRAMMY-winning composer, producer, arranger and guitarist. He constantly explores new musical terrain and successfully expands the boundaries of popular music. As the co-founder of CHIC and the newly elected Chairman of the Songwriters Hall of Fame, Nile Rodgers pioneered a musical language that generated chart-topping hits like "Le Freak". He was inducted into the Rock & Roll Hall of Fame (2017) and the Songwriters Hall of Fame (2016), and his work in the CHIC Organization and his productions with famous artists have sold over 500 million albums and 75 million singles worldwide.

We Are Family Foundation is a not-for-profit organization founded by legendary musician Nile Rodgers and is dedicated to the vision of a global family by supporting and creating programs that promote cultural diversity while nurturing and mentoring the vision, talents, and ideas of young people globally who are positively changing the world. For more information visit www.wearefamilyfoundation.org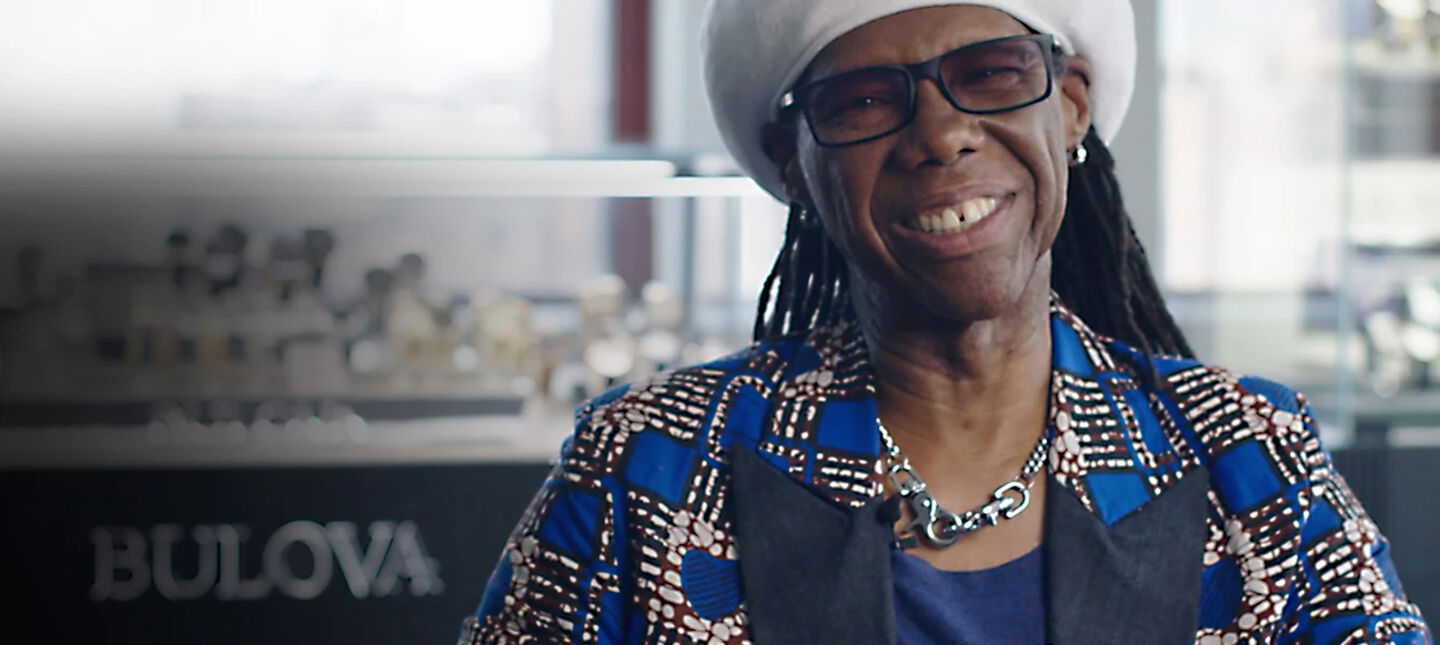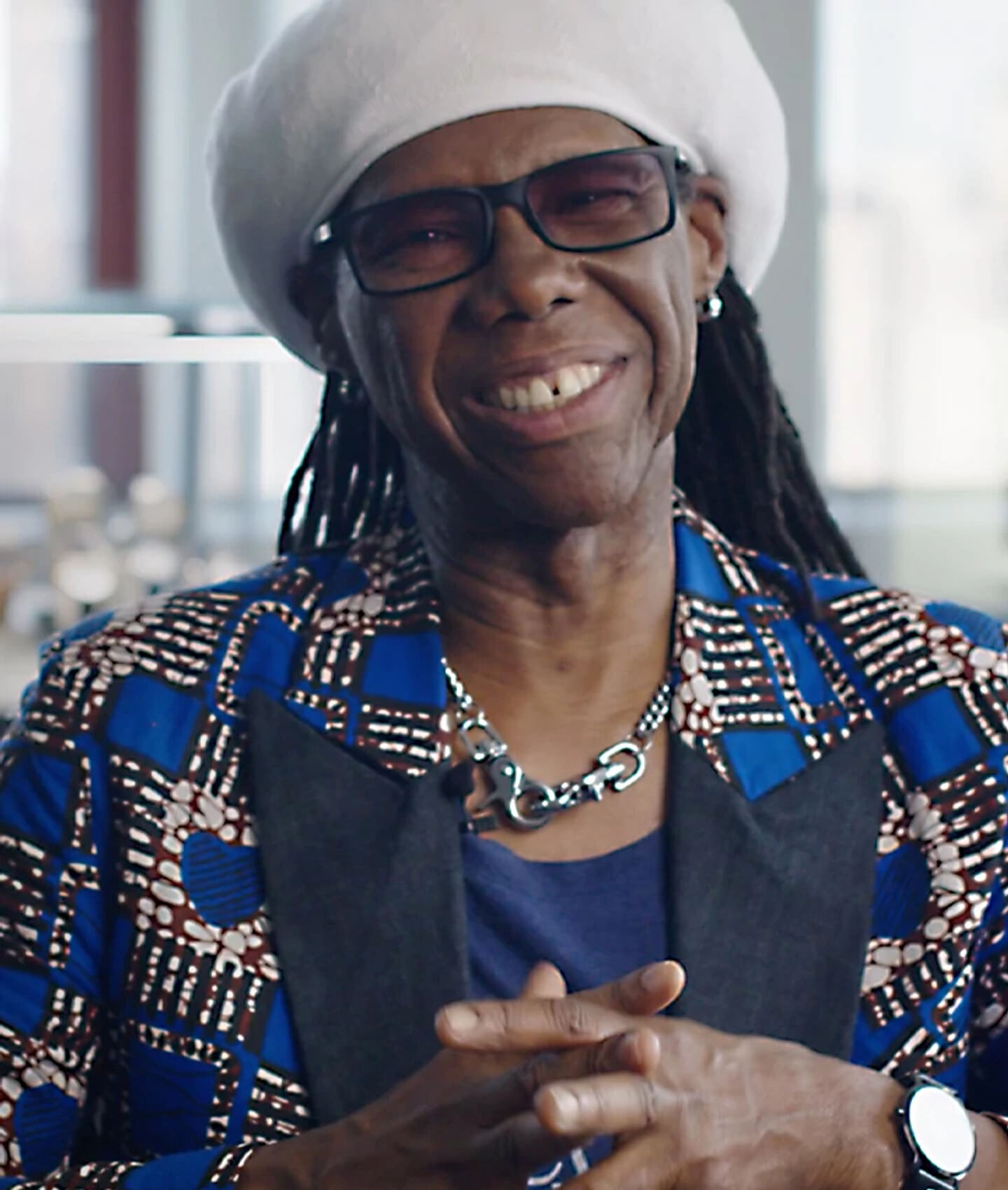 Following your passion is the very definition of being bold, and those who embody this essence are the many artists that decide to pursue a career in the ever-changing music industry. Nile Rodgers is part of our expanding roster of music partnerships Bulova has created over the past few years, including the Latin Grammys, Frank Sinatra Enterprise, The Apollo Theater, and most recently Marc Anthony.

Bulova's partnership with We Are Family Foundation comes naturally through our relationship with Nile Rodgers, its Founder. Bulova previously worked with Nile as the campaign mentor of Bulova's Tune of Time music program where his role was to guide up-and-coming artists through their musical journeys and successes. The two limited-edition timepieces honor Nile's birthday and his ongoing philanthropic endeavors and connect to Bulova's rich history of musical appreciation.